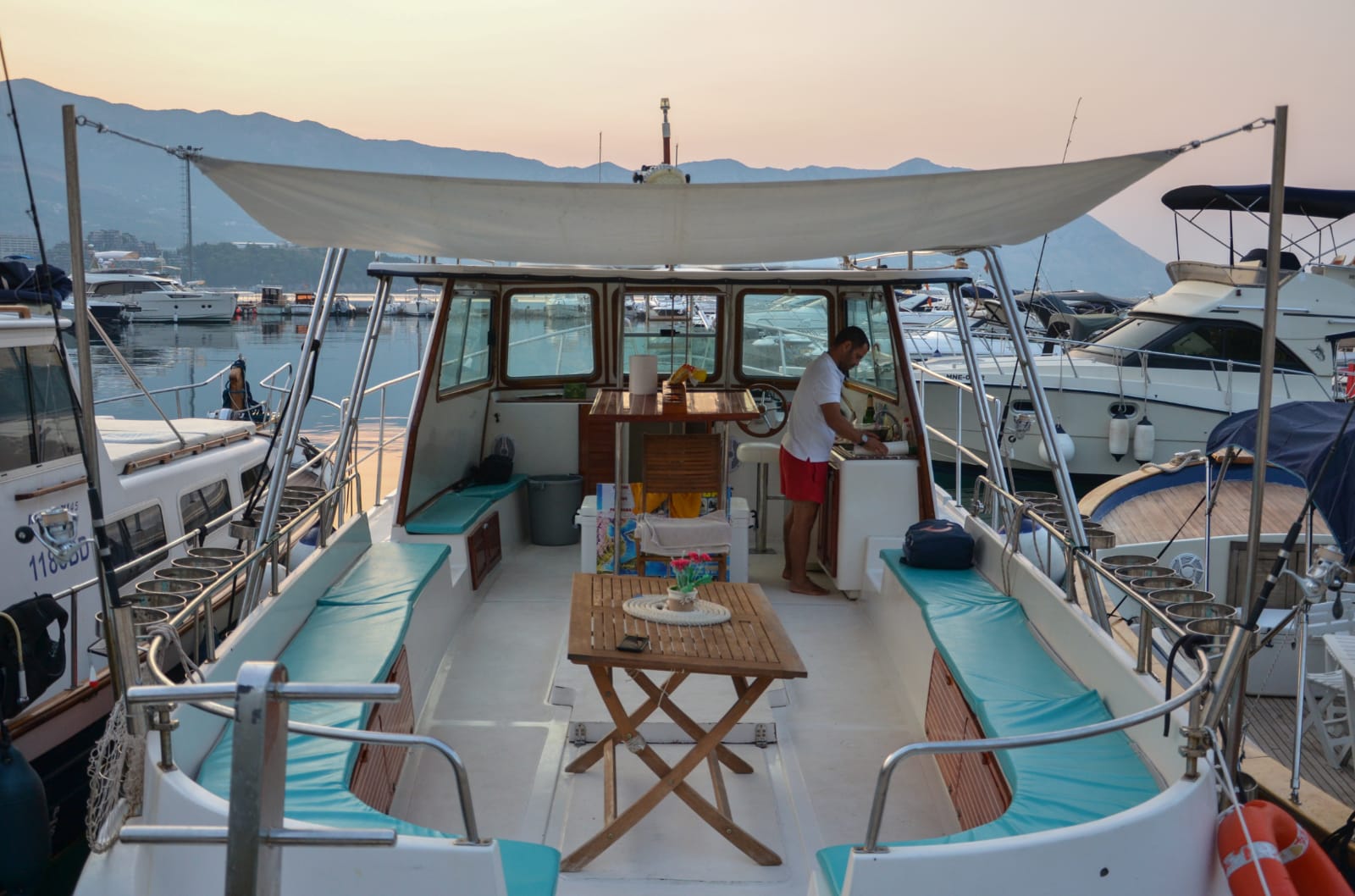 The El Toro boat measures 12 meters in length and 4 meters in width. It is equipped with an Iveko engine, providing a power of 280 pht (305 kW). The boat can reach a speed of 15 miles per hour. It has a fuel tank capacity of 800 liters and a water tank capacity of 500 liters. The boat can accommodate up to 20 people. It features a cabin, an upper cabin, a toilet, a mini kitchen, a bar, and benches for both sitting and lying down. An awning covers half of the boat, and if needed, the entire length can be covered. For refreshments, the boat has two separate refrigerators, one for drinks and another for food. It also includes stairs for easy access to the sea, a shower, and a music system. Safety equipment such as life belts, fishing gear, diving masks, a Garmin GPS, and a sonar are available on board. Additionally, there is a SUP (Stand-Up Paddle) board for recreational activities.
All our tours commence from the marina in Budva. The Budva Aquatarium - Panorama is a 2-hour panoramic tour that begins at Marina Budva. We sail along the coastline, passing by Slovenska beach, Becica beach, and then continuing towards Kamenova, Przna, Kraljicine, and Kraljeva beaches. During the tour, we also make a circular route around the stunning Sveti Stefan, where we pause to capture memorable photographs. After Sveti Stefan, our journey carries on, encircling the captivating island of Sveti Nikola, ultimately heading towards Jaz beach. On our return trip, we make a stop at the beautiful beaches of Mogren 1, Mogren 2, and Ricardova glava. We also navigate around the enchanting Old Town of Budva before concluding the tour by returning to the marina.
Experience a captivating Panorama-Swimming tour that spans over 3 hours, allowing ample time for refreshing breaks and swimming opportunities at picturesque destinations. These include the renowned island of Sveti Stefan, the mesmerizing caves near the island of Sveti Nikola, and the scenic Jaz beach.
Embark on an exciting fishing excursion that extends for a minimum of 3 hours. The tour sets off during the early morning hours, typically around 6 o'clock. Utilizing the assistance of GPS and sonar technology, we navigate to strategic locations where fish are commonly found. While the boat remains stationary, we engage in fishing using poles placed at the depths of the water, enticing the fish with bait such as shrimps or squid. Our targeted hunting spots encompass underwater reefs, sunken ships, and even airplanes, ensuring a fruitful fishing experience. You'll have the opportunity to capture some delectable fish species. If desired, we can prepare the caught fish on the boat or arrange for its cooking at one of the local restaurants.
Engage in the thrilling technique of trolling, which involves fishing while the boat is in motion. By releasing artificial baits behind the vessel, you have the opportunity to catch predatory fish species like bluefish (bonito, lamprey, small tuna, barracuda, goby). Autumn is the prime season for this type of fishing, and we highly recommend it during this time of year.
Embark on an exhilarating BIG Game fishing adventure targeting colossal predators like tuna, swordfish, and sharks. This thrilling expedition lasts for a duration of 6 hours. Optimal weather conditions are crucial, and the timing of our hunting endeavors will be determined accordingly. To attract these mighty predators, we employ a combination of live fish as bait and an additional 20 kg of small fish to entice their appetites. Prepare for an unforgettable experience filled with adrenaline and the opportunity to reel in remarkable trophies of the sea.
Engaging in octopus hunting is a captivating and challenging pursuit. It requires not only a serene sea and crystal-clear water but also expertise and understanding of the hunting techniques. It is important to note that octopus hunting typically focuses on immature specimens, which are commonly released back into the sea. The activity welcomes individuals who are familiar with using a diving mask, allowing them to actively participate in this thrilling venture.
Indulge in our Fish picnic tour, which spans 5-6 hours. After providing an introduction to the Budva Aquatarium, we embark on a panoramic tour, making stops at attractive locations, beaches, and caves. We then proceed to one of the secluded bays where we prepare a delicious lunch. During this time, guests have the opportunity to swim, dive, jump, fish, or enjoy a ride on a pedal board.
Experience the captivating BLUE CAVE tour, which extends for a duration of 5 to 8 hours. Our journey begins with a visit to the charming Old Town of Budva, followed by a scenic exploration of Ricardova Glava beach, Mogren 1 and 2 beaches, Jaz beach, Trsteno beach, and Ploce beach. Afterward, we venture into the open sea, heading towards the renowned church of St. Nikola and the mesmerizing Krekavica cave. Our next destination is the secluded cove of Carevica stream, accessible only by boat, where we take a refreshing break for swimming. Continuing our expedition, we traverse the open sea towards the iconic Blue Cave, where we indulge in a significant break to fully appreciate its natural beauty. Alongside the Blue Cave, we also visit the captivating Black Cave and explore the nearby tunnels. Upon our return journey, we make another swimming break based on the guests' preferences. Additionally, we have the opportunity to visit the newly developed tourist complex, including the Lustica Bay marina, Blue Horizons, and the charming fishing village of Bigova. Here, guests have the possibility to enjoy a delightful lunch at a restaurant owned by a local fisherman who goes fishing every morning with his two sons.
Embark on an unforgettable Petrovac tour that spans 4-5 hours of exploration and discovery. Our journey commences from Marina Budva, following the picturesque coastline. We pass by renowned destinations such as Slovenska beach and Becica beach, continuing onwards to Kamenova beach, Przna beach, Kraljicine beach, and Kraljeva beach. As we make our way around the captivating island of Sveti Stefan, we pause for a well-deserved break, allowing ample time for photography and swimming. Continuing our adventure, we venture past the scenic nudist beach Crvena Glavica, the alluring Galija beach, and the pristine Drobni pijesak beach. We then approach the enchanting river Rezevica, reaching Cape Skoci djevojka, where intriguing military bunkers can be observed. Our route leads us further to Perazica and ultimately to the charming town of Petrovac, where we take a break between the two islands of Katic, where a stunning church stands. On our return journey, we have the opportunity to visit the renowned island of Sveti Nikola, as well as the beloved beaches of Mogren 1 and 2, Ricardove Glava, and the captivating old town of Budva. Prepare for an immersive experience filled with breathtaking scenery and memorable moments.
Experience a captivating full-day excursion to the stunning Bay of Kotor, a journey that lasts no more than 8 hours. Our adventure commences with a visit to the historic Old Town of Budva, followed by an exploration of the picturesque beaches of Ricardova Glava, Mogren 1 and 2, Jaz, Trsteno, and Ploce. As we venture into the open sea, our next destinations include the remarkable church of St. Nikola and the intriguing Krekavica cave. We then arrive at the secluded cove of Carevica stream, accessible only by boat, where we take a leisurely break to indulge in refreshing swimming. Continuing our voyage, we navigate the open sea towards the entrance of the enchanting Bay of Kotor. Along the way, we have the opportunity to visit the famous Blue Cave, as well as the captivating island of Mamula and the picturesque Zanjice. For those interested, a delightful lunch option is available, but prior reservation is necessary. Our journey carries on, passing by the charming village of Rose and the historic war-time tunnels that once served as shelters for submarines. We sail further, encountering shellfish farms cultivating mussels and oysters, and traverse through the narrowest section of the bay. Finally, we reach the remarkable island of Gospa od Skrpjela in the charming town of Perast, concluding our memorable exploration of the Bay of Kotor.
For bookings or queries please contact Jelena at +382 68 082 770